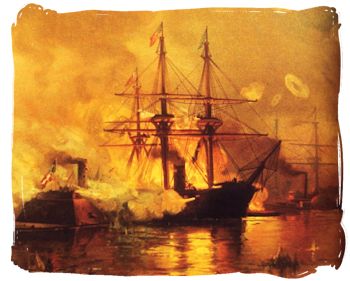 April 25th. Left our anchorage early and proceeded up the river, keeping constantly on the alert for a battery which had been reported in this vicinity. We found the batteries some five or six miles below New Orleans called the Chalmette batteries, and consisting of some ten to fifteen guns. They opened upon us before we could get range of them, and we passed steadily on amid a shower of shell, and when within range gave them a broadside that sent them flying from their guns.
After an action of some thirty minutes all was quiet again, and, strange to say, none were injured except two, who fell overboard. As we passed on towards the city we were met by burning ships of all kinds; large ships were fired and cut adrift to float upon us, while others were burned at the levee. The destruction of property was immense, and hardly a ship or steamer escaped the flames. We anchored abreast of the city about 1 o'clock, P. M., amid a drenching rain, and the Flag Officer sent ashore a demand for the surrender of the city by Captain Bailey. The levee was thronged with people, and a party who waved a white flag and cheered for the Union thus created a terrible riot, and several persons were killed.
A rebel ram was burned and sunk at the levee, and the new floating battery Mississippi, of immense strength and proportions, was destroyed by fire and floated by us down the river.