A camp for sick and wounded had been established at Portsmouth Grove, near Newport, R. I., and as a matter of course it appealed to Miss Wormeley, its near neighbor. She was allowed only a short rest before earnest request came to her to take charge of the nursing there. We were all hankering for our active life in the thick of the fight. Mr. Olmsted used to say.
"My heart's in the Pamunkey."
---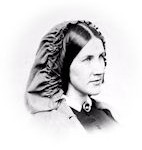 Georgeanna Woolsey to her sister, Eliza Howland.
Litchfield, Conn., Aug. 26, 1862.
Miss Wormeley had a nice note from Mr. Olmsted which she sent me to read and which I returned to her—all about "the staff" on the Wilson Small—complimentary, but saying that he wonders at himself for having been at the head, and never could attempt to say how he felt towards all those who were associated with him. She wrote to ask his opinion about accepting the directorship at Portsmouth Grove Hospital. . . . I can't find her note. It told me that the Surgeon-General, Hammond, had been to see her and had asked her to take the lady directorship. She hesitated and he sent the surgeon-in-charge to see her, who wouldn't take "no" for an answer; said he liked women, and agreed at once to write for Dr. Robert Ware. He did write, but the Dr. could not be found.[1] . . .
She asks what I think about it. I advised her to take it, and if she could not live in the hospital, to go out several times a week, and keep her paw on it, and insist upon order and system in the housekeeping department and kitchen arrangements. I hope she will, it is too good a chance to miss, and it is certainly a great compliment from the Surgeon-General.
---
[1]Dr. Ware volunteered for service further South, and died there of fever contracted on duty.