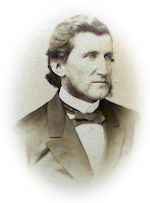 From H. L. Hodge.
Fortress Monroe, April 19th, 1862,
Dear Georgy: We were summoned to Yorktown, and about twenty of us left Philadelphia yesterday morning. We passed on the Bay this morning many transports bearing, as I suppose, Franklin's Division. I presume that Joe and myself were not far apart. He goes, however, if report be true, to the opposite side of York River. They brought down here some wounded yesterday; they are under the care of Surgeon Cuyler and are comfortably located.
We have come only in anticipation that we may be needed, and may therefore remain a short time or for a long while, according to circumstances. . . .