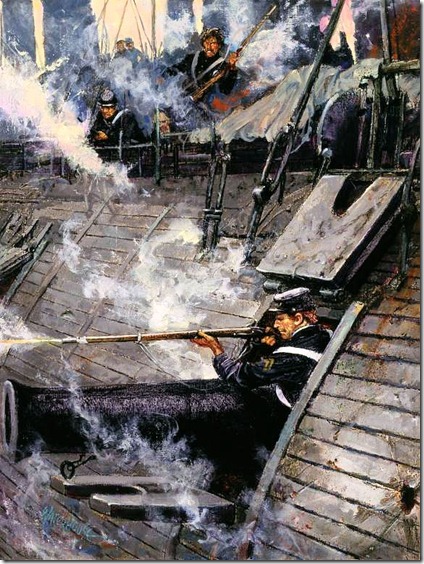 John Mackie (Wikipedia)
Mackie enlisted in the Marine Corps from New York on August 23, 1861. By 1862, he held the rank of Corporal and was serving on the ironclad warship USS Galena (1862). On May 15, 1862, a five-ship Union Navy squadron, including the Galena, steamed up the James River to test the defenses of the Confederate capital, Richmond, Virginia. After reaching a bend in the river upstream of Dutch Gap, the squadron encountered submerged obstacles and heavy fire from Fort Darling, atop Drewry's Bluff. The fort's artillery batteries inflicted severe damage on the Galena and forced the Union squadron to turn back. During the battle (which would come to be known as the Battle of Drewry's Bluff), most of Galena's naval gun crew was killed or wounded. Mackie led a group of Marines who took over operation of the guns for the remainder of the battle.
Mackie later received a Medal of Honor.