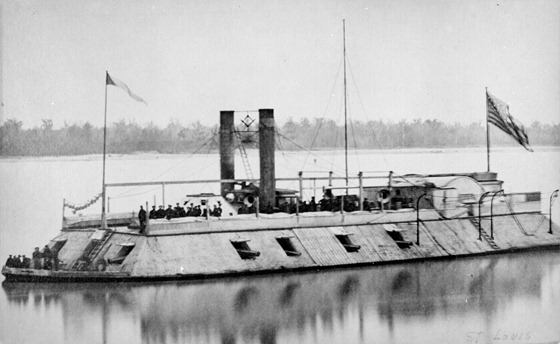 U.S.S. St. Louis, first Eads ironclad gunboat, renamed the Baron de Kalb in October 1862. (National Archives)
The USS Baron DeKalb, named after General Baron DeKalb of Hüttendorf near Erlangen, in present-day Bavaria, was originally named Saint Louis, and was one of seven City class ironclads built at Carondelet, Missouri and Mound City, Illinois, for the Western Gunboat Flotilla.
These ironclads were shallow draft with a center driven paddle wheel. They were partially armored and slow and very hard to steer in the currents of rivers. This ironclad was also vulnerable to plunging fire and also by hits in their un-armored areas. Called "Pook Turtles" for the designer, they did yeoman service through 4 years of war and were present at almost every battle on the Mississippi River and its tributaries.
(The name) change was apparently in anticipation of the vessel's transfer from the War Department to the Navy Department, there already being a USS St. Louis in commission with the Navy.