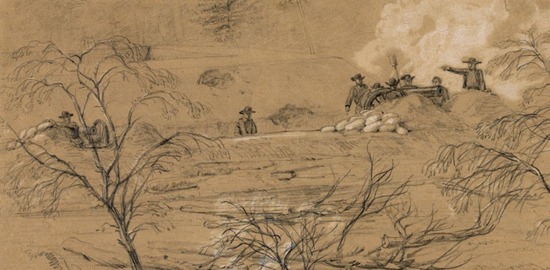 Portion of Rebel battery at Wynns Mill. The gun which wounded Lieut. Wagner. Topographical Engineer.
Artist: Alfred R. Waud.
This drawing and additional information may be found here at the Library of Congress
---
Additional Info related to the drawing:
The following incident is given in illustration of the hazards common to the duty of a topographical engineer. My especial duty along the lines was to direct the running [of] short base lines with a steel tape carried by two soldiers in a quick trot. F.W. Dorr with a plane table would occupy the ends of the base and rapidly sight the lines of redoubt batteries or breastworks drawing determining lines. A very few minutes were given to each station but one unfortunate day Lieut. Wagner of the Corps of Topographical Engineers came up to the instrument "on station" and engaged Dorr in conversation [within sight of] a small battery about a thousand feet distant. The opportunity was seized by the Confederates manning the battery who opened fire upon the group about the plane table, comprising besides Dorr and Wagner, a number of pickets and my chainmen. The first shell fired, a percussion, struck the tripod and exploding literally blew up the whole group. Dorr escaped with a scratch but Wagner and one of my chainmen were mortally wounded [???] dying in two days. Three men were killed outright and several slightly wounded. Nothing was left of the plane table, and the sheet was torn in half and sprinkled with Wagner's blood. Only the telescope of the alhidade was found. This was the last plane table work done during the campaign and thereafter reconnaissances were made with compass and [chain?] instruments. (War Record of J. W. Donn)
---
West Point Class of 1859 – Orlando G. Wagner: Topographical Engineer; served in New Mexico, then was killed fighting for the Union in the War between the States, within three years of graduating.
1829 (Bvt. Captain, Sep. 10, 1861,  for Gallant and Meritorious Services in the Campaign in Western Virginia)
Jan. 20 to Feb., 1862; and in the Virginia Peninsular Campaign as Asst. Top. Engineer (Army of the Potomac), Mar.-Apr., 1862, being engaged in the Siege of Yorktown, Apr. 5‑16, 1862, when he was Mortally Wounded while reconnoitring the enemy's works.  Died Apr. 21, 1862, of Wound received before Yorktown, Va.: Aged 25.
(Bvt. Major, Apr. 17, 1862, for Gallant and Meritorious Services at the Siege of Yorktown, Va., where he was Mortally Wounded while Reconnoitring the Enemy's Works)