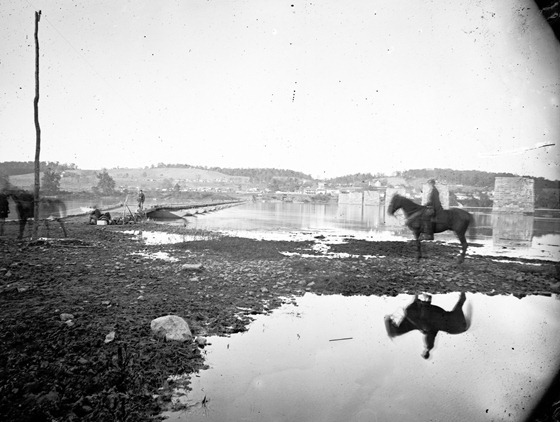 This photograph is by Alexander Gardner at Berlin, – now Brunswick – Maryland and is a cropped portion of the original image.
Library of Congress summary: Photo shows telegraph pole at left and pontoon bridge built by Union troops across the Potomac River at Barry, Maryland (earlier called Berlin and later Brunswick, Md.). This view, looking from Virginia towards the town, features a horse and rider with their reflection in the water and also includes the stone piers of a bridge destroyed by the Confederate Army in 1861. The town is about 30 miles south of Antietam, and the photographer was in the area to document the main eastern theater of the war, Battle of Antietam, September-October 1862.
In his Photographic Sketch Book of the War, Gardner writes,
BERLIN is a quiet little village on the Baltimore and Ohio Railroad, twelve miles from Point of Rocks. A fine bridge connected it with the Virginia shore until June, 1861, when the Confederates sacrificed it to the spirit of destruction that ruined Harper's Ferry and laid waste the pleasant places of the border. Its inhabitants, numbering about five hundred, are dependent principally for support upon the business of the Chesapeake and Ohio Canal, which passes the place, and during the war, from the interruption of navigation necessarily suffered much hardship. The bivouac of the Army of the Potomac in its vicinity in 1862 first introduced its name to the country, and it has fallen again into the partial oblivion that has hidden much more pretentious villages. Here McClellan had his headquarters after the battle of Antietam, and the troops crossed into Virginia, marching down through Loudon to Rectortown and Warrenton, and thence to Fredericksburg."
The Photograph only shows the village and a small portion of the Maryland shore, from which no adequate impression can be formed of the beauty of the surrounding scenery. The river at this point is obstructed by scattered rocks, and with the wooded hills that slope precipitously to the water's edge, forms one of the most charming pictures of the Potomac. Game and fish abound, many objects of interest are close at hand, and the summer fugitive from the ills of city life finds here a pleasant halting place in his journeyings for recreation.
Library of Congress image.