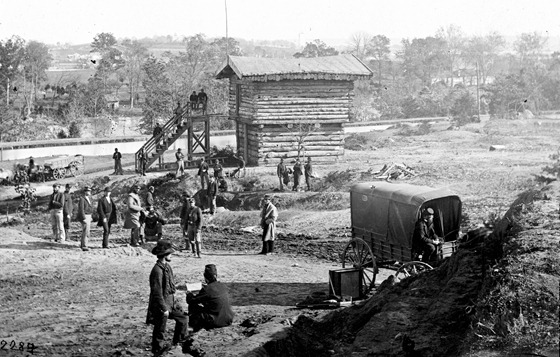 Arlington Heights, Va. Blockhouse near Aqueduct Bridge.
Fort name and location identified as Fort Haggerty, near Arlington Ridge Road, and date from Mr. Lincolns Forts (1988), page 103.
Library of Congress image.
Note wagon, probably belong to photographer.
Google map location.
_____________________________
Historical Marker:
Historical Site; Defenses of Washington; 1861-1865
Fort Haggerty
Here beside the Georgetown-Alexandria road stood Fort Haggerty, a small outwork of Fort Corcoran, constructed in May 1861. With a perimeter of 128 yards and emplacements for 4 guns, it was designed to bring under fire the slope south of Fort Corcoran, which could not be seen from there.